Ender's Game — Orson Scott Card
Thomas nous fait découvrir Ender's Game de Orson Scott Card. J'en profite pour le remercier de sa contribution et vous inviter à laisser un commentaire si vous voulez apporter votre contribution à ce site.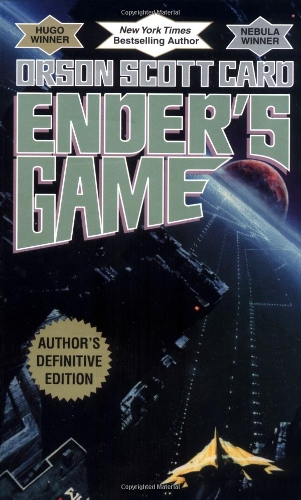 Titre : Ender's Game
Auteur : Orson Scott Card
En anglais, version française traduite par Daniel Lemoine : La stratégie d'Ender
ISBN : 0812550706 / 978-0812550702 (version anglaise)
Tor Science Fiction / 384 pages
Quatrième de couverture : Intense is the word for Ender's Game. Aliens have attacked Earth twice and almost destroyed the human species. To make sure humans win the next encounter, the world government has taken to breeding military geniuses — and then training them in the arts of war… The early training, not surprisingly, takes the form of 'games'… Ender Wiggin is a genius among geniuses; he wins all the games… He is smart enough to know that time is running out. But is he smart enough to save the planet?

New York Times
Mon commentaire : Comme le décrit la quatrième de couv' (ils ont tout simplement repris une critique du NYT), Ender, benjamin d'une famille de trois enfants (les autres enfants le traitent de Third, car sa famille a eu une dérogation pour avoir un troisième enfant dans ce futur où deux est le maximum autorisé par le gouvernement planétaire), est recruté dès son plus jeune âge par l'armée inter-galactique pour être entraîné comme futur chef de l'armée aérospatiale.
On suit donc le jeune Ender, assiste à sa rencontre avec le monde militaire, joue avec lui aux jeux de guerre qui lui servent d'entraînement, et on entre assez rapidement dans cette histoire, il est même assez difficile de s'en échapper.

Le livre a été intronisé un classique de la science-fiction dans les années 1980 par la presse spécialisée, et c'est vrai qu'il est très prenant. On a envie de savoir si Ender arrivera au terme de sa formation et protègera notre planète d'une troisième invasion extraterrestre. Il est aussi classique dans le sens où, personnellement, j'ai vu la fin arriver gros comme une maison (je ne la raconterai pas ici, à vous de me dire dans les commentaires si vous l'aviez devinée), et ce assez rapidement dans l'histoire. Mais ce livre offre malgré tout un bon divertissement, à lire (ou à relire) sans effort, sur les plages cet été (ça devient un peu tard là) ou sur les pistes cet hiver !

Notez bien : j'ai lu la version anglaise du livre, je n'ai pas eu l'occasion de lire la traduction en français.